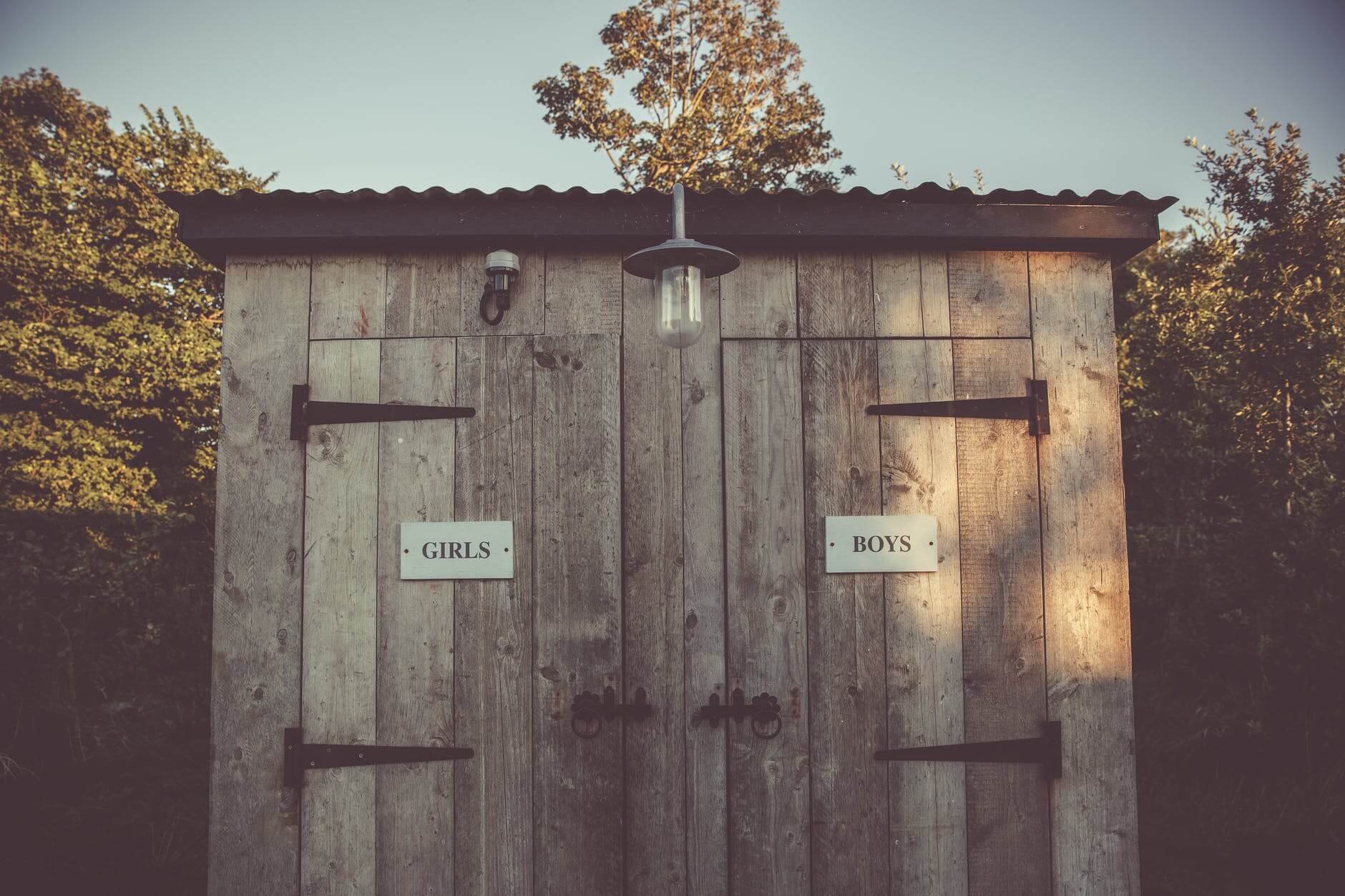 image source: pexels.com
Spending your time outdoors is fun. In your adventures, you may have come across certain structures at national parks, campgrounds, or recreational places. You may spot them due to their structure, but they don't have any water or electricity.
However, what is a vault toilet and how does this waterless pit work? My curiosity led me to research more about this toilet, and here's what I found.
You may come across this toilet when out having fun. Below is everything you need to find out how this toilet works, and what makes it unique.
What Are Waterless Toilets?
image source: pexels.com
Waterless toilets don't use water for flushing, something that makes them environmentally-friendly and saves water costs.  Dry sanitation systems don't use water to transport or treat waste. With the right design, these toilets can keep effluent out of the waterways and the environment.
Moreover, these toilets consume minimal energy and can be an excellent alternative to reticulated systems that transport anything downstream.  These systems reduce pollution and site restrictions.
What Is A Vault Toilet?
Vault toilets are non-flush toilets that comes with a sealed container buried underground to receive the excreta. These toilets are over decades old and are a perfect choice for parks and other recreational areas that require waterless toilets.
The toilets meet ADA regulations for restrooms and user needs. Also, they are easy to maintain and durable.
You'll notice that prefabricated vault toilets can be from the wood frame, cross-linked polyethylene, or reinforced concrete. Moreover, these toilets can be unisex, single, or double vault systems.  Concrete structures are durable than other types of vault toilets.
The U.S. Forest Service came up with the idea of vault toilets, where they thought of having a toilet that doesn't have odors like ordinary toilets.  The building has a vent system that allows fresh air to flow in and out of the vent and vault pipe.
How Do Vault Toilets Work?
image source: pexels.com
Vault toilets have a container. The container is between 700-1000 gallons in size, although some may go up to 13,000 gallons. A toilet installation involves burying the container underground with a concrete slab to hold it in place. Also, the vault is in a sloped position to allow the waste to drain down.
Later, a structure is placed on the slab with connections to the container for the vent pipe and toilet.
The waste stays underground until the municipal council pumps it. Vaults can be plastic or concrete. You may notice that most vaults have reinforced cross-linked polyethylene, which doesn't leak or crack. Something that makes it ideal for all environmental standards.
With this creative system, people can enjoy an odor-free, permanent, and accessible toilet at less the cost of those built structures. It's critical to note that the vault toilets are not always odorless. For example, if a park has no wind, this may cause a cloud to settle around it, which could move into nearby places.
Furthermore, the design relies on the sun warming a vent on the roof. With this warmth, any odor is pushed out in the pipe and out of the building.  However, some places are crowded, which may make it difficult for sun warming.
The authorities can help reduce any odors by:
Adding a biologically active filler to convert the ammonia to odorless nitrogen
Activating carbon to absorb the odor
Transporting the odor by pipe to a far place
Placing a flame in the vent stack to burn the volatile gas
Also, moving air and wind create pressure. By placing the vents in the restroom walls, you allow air to move into the building, which raises the air pressure. The inclusion of this creates a way to force air from high pressure in the building to low pressure outside the structure.
Nevertheless, there's a need to understand the installation site and the winds to get the maximum air pressure. The air pressure from the winds improves the efficacy of the ventilation system in the waterless toilet. It's an effective, simple, and cost-beneficial way to handle any odors from a vault toilet.
Modern designs have concrete walls that resemble stone and gable windows for lighting. You need to consider other systems on the market to decrease odor problems or alter the bacteria to promote decomposition of the waste. Today's designs have outdoor access to the pump-out process to ensure they are user-friendly.
What Are The Advantages Of A Vault Toilet?
Vault toilets are meant for one person's use at a time as they are self-contained; this gives you the privacy you deserve.
Vault toilets are cheap to construct and maintain. They do not need a water connection; all you need is simple maintenance which includes cleaning.  Also, these toilets provide comfort and privacy compared to other types of toilets.
Some toilets have dispensers for sanitizing and battery-powered lights in case you don't have a flashlight at night. These toilets are convenient when you need to help yourself in a campground or a park.
Plastic vault toilets are portable, which allows them to be transferred from one area to another. You can use these toilets in festivals or events.
What Are The Disadvantages Of A Vault Toilet?
Vault toilets are not portable; this means you can't move them around when there's an event or a festival in the park. Moreover, because they are waterless, they require regular cleaning, which may not always be available at parks or campgrounds.
The fact that the toilets require warmth to be odorless also come as a disadvantage if the toilet is a location with dense forest or a dark area.
Vault toilets can be a pain when handling waste disposal. You'll notice that some restrooms have a sign to remind you to not throw garbage down the drain as its expensive and difficult to remove.  Sometimes the contents of the vault are visible when looking down the toilet riser, something that can be unsanitary.
Toilets with a faulty ventilation system may lead to foul-smelling odors, which may inconvenience the users.
Is There A Difference Between A Vault Toilet And A Pit Latrine?
image source: pixabay.com
Pit latrine allows the waste to accumulate into the underlying soil. However, a vault toilet accumulates waste in the container, which then goes to the municipal wastewater treatment plant.
Other Types Of Waterless Toilets
Some types of waterless toilets include:
Pit Toilets
Pit toilets can be anywhere and involve digging a trench in the ground. All the user needs is to squat or stand over the toilet to help himself. Modern pit toilets have roofs, while others include benches with holes.
These toilets need little maintenance and are cheap to construct. What's more, you can create yours if you find no toilets around the camping area. Large pits don't need to be emptied as the waste breaks down quickly. No one needs to empty the pit, and the construction is cheap.
Unfortunately, pit toilets are not as hygienic, once the pit fills up. Moreover, some lack proper ventilation, which could make them unfit to use.
Composting Toilet
A composting toilet turns waste into something manageable without a septic tank or water. Most of these toilets are in remote cabins. Composting toilets are different from pit toilets, as the former keeps the human waste from groundwater, which keeps the environment free from bacteria and other pathogens.
Also, the system places waste into a container, and the microbe reproduction removes any pathogens, to make the trash an organic fertilizer.
Zero Gravity Toilets
Zero gravity toilets are found in space stations. With this type of waterless toilet, liquid waste goes to space, while solid waste is compacted, dried, and sent back to earth.
Incinerating Toilets
Incinerating toilets are in remote arctic research stations, onboard boats, tiny cabins, and other places. These toilets only produce a spoonful of ash per human bowel movement without the need for water. The ash is odor free and sterile. You can place the ash around the garden or a farm as a soil amendment.
However, these toilets require electricity, which means they need a power grid to function.  Some incinerating toilets use natural gas, diesel, or propane. These toilets are also expensive compared to vault toilets. Moreover, you need to consider the transportation of the toilet and the installation costs.
Bag Toilet
Bag toilets are excellent if you plan to go on car camping, disaster relief, or boat on a budget. The waterless toilets are cheap, portable, and work as an impromptu method of waste catching. The toilet gets the waste in a bag that you can dispose of in the trash.
Conclusion
image source: pixabay.com
We hope that you now know the answer to what is a vault toilet. Although some assume that vault toilets work like outhouses, the latter is more hygienic and provides a fantastic choice for those looking for a waterless solution. They are also easy to maintain, clean, and cost-efficient compared to ordinary toilets.
[amazon bestseller="toilet repair kit" items="3″]