Common plumbing problems can stop the world.
Or at least your little quadrant of it.
Plumbing problems can be disruptive, time-consuming, and expensive.
But wait…
If you could solve many of the small plumbing problems before they become big plumbing problems, that would be a good thing.
Where do you start?
Does that mean using… tools?
Where do you learn?
How does a toilet work?
Why doesn't the water stop running until you jiggle the handle?
Does that little pop-up thingy in the bathroom sink ever close tight?
The garbage disposal made a horrendous crunching noise then just quit?
What is that horrible smell in the kitchen? Where is it from?
Why do people have SO MUCH HAIR?
The whole bottle of liquid drain cleaner just sat there and did nothing.
If these annoying little plumbing problems are plaguing you…
You're in the right place!
Put on your overalls and rubber gloves!
Don't ask… You should know why we wear overalls…
Plumbing Problems 101 is about to commence!
Plumbing Problems Simplified:
Learning the Basic Components
Water comes in, water goes out — but how does a household water supply system work?
Most people don't think about their plumbing until they have problems.
But this makes all the difference:
If you know how to fix the little things, they don't turn into the big things.
You get to keep your life savings and all your limbs. Which is probably a good thing, since plumbers stopped taking payment in arms and legs years ago.
Rather than giving you with a long, boring description of how your plumbing system works, we found this great video from the folks at Home Depot to walk you through a general household system.
You can watch it now or later:
Your system may vary slightly if you live in an apartment building, condominium, or in a rural area with a well and a septic system, but the basic principles remain the same.
The bare minimum knowledge you need?
Know where the main shutoff inside your home or apartment is.
With that knowledge, if you develop a small leak, you can turn off the water and minimize damage while you gather your tools or contact a plumber.
How your toilet works
Most household toilets employ two main forces of nature. Water pressure and gravity.
Water flows into the tank, where it sits patiently waiting for you to need it. When the handle is depressed, it raises a flapper that allows the water to flow into the bowl assembly.
Enter gravity.
The increased amount of water in the bowl forces the water and your "stuff" to seek the most expeditious way out, which is through the S-trap.
The flow of water created by gravity creates a siphon-effect, which helps to pull your stuff through the smaller piping of the S-trap.
When that doesn't work, you have plumbing problems.
We'll help you solve most of those later.
How your bathroom sink works
Unlike the toilet, which only has one water inlet, your sink has both a hot and a cold water feed.
Modern plumbing always puts the hot on the left and the cold on the right. If you live in a home that is older or was constructed by a DIY pro, we make no guarantees.
FUNNY REAL LIFE PLUMBING ADVENTURES
I once lived in a 1928 farmhouse that had plumbing added long after the construction of the original house. Everything was installed backward, including the toilet, which filled from the hot water feed. Courtesy flushes got a bit steamy.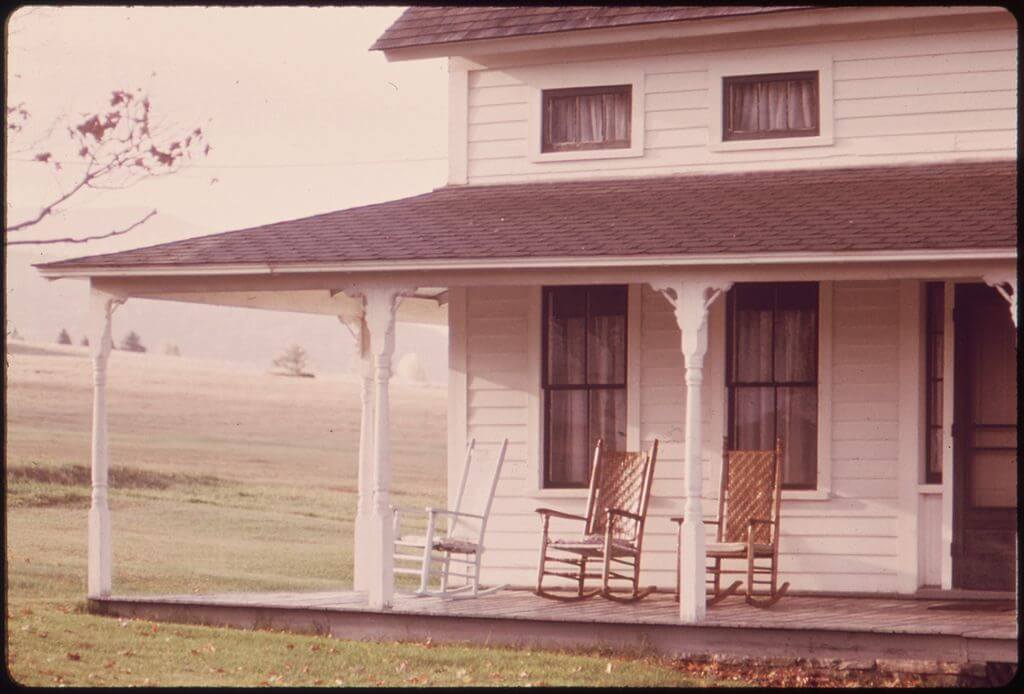 Image: Public Domain via Wikimedia Commons
Like the sink, your shower has both a hot and cold water inlet. How they are connected depends on the style of faucet assembly you have.
Here's what you need to know:
Most newer shower assemblies have a single adjustment handle mounted onto a diverter valve.
The flow of hot and cold is controlled inside the diverter by turning the handle to open or close the valve. Pulling the handle diverts water to the shower head.
Older systems may still have two handles and a manual knob or pull, to stop flow to the lower spigot and divert it to the shower head.
It is important to understand your shower plumbing when purchasing new fixtures.
You don't want to have to reconfigure the entire bathroom to make a new fixture work (or maybe you do).
The kitchen sink and garbage disposal
Kitchen sinks and faucets come with many variations.
Small single kitchen sink with drain board. Image: CC BY-SA 2.0 via Wikimedia Commons
Two handles. One handle. No handles (yes, they have those now too).
Large single basin kitchen sink. Image: ​​CC BY 2.0​​​ from Nicolás Boullosa via Flickr
With a dish sprayer. Without a sprayer.
With a sprayer built into the spigot assembly.
One sink. Two sinks. Three sinks.
Triple basin kitchen sink with dish sprayer. Image: CC BY 2.0 via Wikimedia Commons
With garbage disposal. Without garbage disposal.
Kitchen drain plumbing with garbage disposal unit installed. Image: CC BY-SA 2.0 via Flickr
About the only thing that all sinks will have in common is hot and cold water.
And cartridges.
More on that shortly.
Determining the type of faucet you have and how many holes your sink has for the faucet installation is important.
Dishwashers and ice makers
We lumped dishwashers and ice makers together,.
Here's why:
They have very little to worry about as far as actual plumbing.
And they rarely develop plumbing problems.
Dishwashers are connected to the water feed under the sink, usually on a separate valve leading off the hot water feed. They have a drain hose that is connected either into the main drain or into the garbage disposal unit.
Ice makers have one small (usually a quarter inch) plastic hose connected to the cold water feed. Most professional installers will use an inline valve.
Self-installers? Who knows.
There is no drain line for ice makers. Any draining is done through the freezer into the lower drain pan where it evaporates.
Washing machines, utility sinks, and outside spigots
Washing machines are connected to the hot and cold water feeds using a spigot with a threaded outlet. This allows you to connect the hoses from your machine to the water supply.
If your home has a utility sink, also called a deep sink, it should be plumbed with both hot and cold water. Some garage installations only have a cold water feed though.
Outside spigots, also called a hose bibb, are connected to the cold water feed. They contain a threaded outlet (the spigot) so that a hose can be easily attached.
Most outside spigots have an inside shutoff valve that should be closed during the colder months to avoid frozen pipes.
More on frozen pipes later.
I know, I know… we keep promising more later. Bear with us.
Plumbing Tools:
Why You Should Invest in a Few Specialty Tools
While some plumbing tools are highly specialized and quite expensive. Most are easily accessible and should be included in a home tool kit.
Common Plumbing Tools and Supplies
Image via Flaticon
Channel locks or large pliers
Image via Flaticon
Pipe wrench
Image via Flaticon
Teflon tape
Image via YouTube
Plumber's snake
Image via Flaticon
Toilet plunger
Image from YouTube video
Toilet auger (optional, but very handy when you need it)
Image via Flaticon
Screwdrivers in various sizes and styles
Image via Flaticon
Allen wrenches in various sizes
Image via Flaticon
Adjustable wrench (also called a crescent wrench)
Image via YouTube
Basin wrench (optional, but nice to have)
There are some tools that you might need occasionally. Most can be rented at your local home center, so you don't need to own them.
Teflon tape is your friend. Always have Teflon tape handy.
Use it wisely:
As Leah says: "You can DO THIS!"
Tools that can be rented if needed:
Image via YouTube
Autofeed drain auger (these have a 3- or 4-inch head for sewer drains)
Image via YouTube
Plumber's snake
Image from YouTube video
Toilet auger (optional, but very handy when you need it)
Having a basic tool kit means you can solve many of your plumbing problems.
Fixing That Leaky Faucet Before it Drives You Crazy
Check it out:
A clogged aerator sometimes causes low water pressure due to calcium deposits or grit that can build up.
In the shower, the shower head probably needs cleaning for the same reason.
Good news!
These are also the two easiest plumbing problems to fix.
The aerator is a small fitting attached to the faucet end. It contains a screen which should be cleaned periodically.
To remove the aerator, simply unscrew it from the faucet. If it is difficult, you can carefully use pliers or channel locks, but wrap the aerator in a washcloth to avoid damaging it.
Once it is off, rinse out the debris by running it under the faucet.
Sometimes it can be stubborn.
In that case:
You can use a toothpick or needle to poke through the screen to remove debris. In really stubborn cases, soaking the aerator in vinegar or a commercial scale remover will work.
Once clean, the aerator should be replaced and tightened hand-tight.
If your aerator is rusted, it should be replaced.
That's not all:
To clean the shower head, you can easily remove it. Wrap the fitting with a washcloth and gently unscrew it using channel locks or large pliers to protect the finish.
Once removed, soak it in vinegar, wipe with a cloth, then reinstall. For stubborn deposits, use a small needle to poke the holes clear.
You can give your shower head an overnight soak without removing it. Use a plastic bag containing vinegar and attach it to the shower head with a rubber band.
After allowing the shower head to soak overnight, wipe it with a cloth and run water through it. Doing this monthly, especially if you have hard water, will keep your shower running smoothly.
Kitchen faucets and dish sprayers
Like the shower, you should know a few things about your kitchen faucet before buying a replacement.
All faucets may look similar on the surface, but they may be very different under the escutcheon (that's the fancy name for the pretty part you see).
If you are not sure about the configuration of your faucet, use a flashlight and take a gander at it from under the sink. Or remove it and take the old assembly to the store when you go to purchase a new one.
Some quick fixes:
If your handle pops off, you can fix that in two minutes.
Don't buy a whole new faucet!
Repairing faucets is pretty similar whether you are working on a kitchen sink or a bathroom sink.
Faucets less than 25 years old use a cartridge-type valve assembly.
They can be repaired without needing a plumber.
See? We got here finally.
Just remember to turn off BOTH water supply valves!
The steps to replace a cartridge:
With a small screwdriver, pop out the little decorative doodad (if your faucet has one) and set it aside
Using a screwdriver or Allen wrench, remove the outer part of the handle
With your adjustable wrench, loosen the packing nut on the cartridge
Remove the cartridge — since all faucets are slightly different, use caution when performing this part (you can find information on your faucet on the internet if you have difficulty)
Check the washer and o-ring (most manufacturers recommend changing these when the cartridge is replaced)
TAKE THE CARTRIDGE with you to buy the replacement (don't forget the o-ring and washer)
Reassemble the faucet with the new cartridge
If you have to replace the entire kitchen faucet, make sure that you purchase one that matches your sink design. If you have a one-hole sink, you can't use a faucet that needs three holes.
Likewise, you can't install a dish sprayer without the access hole for that (unless you can cut a hole).
For the mechanics of faucet replacement, please see the next section. Kitchen and bathroom replacement procedures are similar enough that we don't want to repeat it and bore you to tears.
IMPORTANT NOTE:
If you have a single-handled faucet and the hot and cold are reversed after you replace the cartridge, you installed it backward. While most new cartridges only go in one way, some of the older ones are easy to install wrong. Simply disassemble the handle assembly and turn the cartridge 180 degrees, then reassemble it.
Bathroom faucet replacements
Are you ready?
Got the cabinet under the sink empty?
Got your safety glasses?
You don't need them? Are you sure?
Put them on anyway — you can thank us later.
The steps to replace a faucet
Make sure that BOTH water supply valves are closed
Using a basin wrench, disconnect the supply line fittings under the old faucet
Disconnect the supply lines from the valves if you are also replacing those
Remove the collar fittings from the base of the supply inlets on the faucet
Climb out of the cabinet and stretch your old bones a bit
Pull the old faucet out of the sink and clean the area around the holes
Apply a small line of silicone around the base of the new faucet
Drop it into place and add the collar fittings, tightening them hand tight
Apply some Teflon tape on the inlet fittings and attach the supply lines to the faucet
Attach the other end of the supply lines to the valves
Tighten all the supply line fittings and the collar anchors with the basin wrench but be careful not to over-tighten them
Turn on the water and do a check for leaks
That's all there is to it.
The most important advice we can offer is to go at your own pace and pay attention while you are removing the old faucet. Then just install the new faucet in the opposite order.
If you have a REALLY OLD bathroom faucet:
Another quick and easy repair you can do is to replace that old spigot in your bathtub.
Replacing the spigot in your bathtub isn't as hard as you might think:
Outside spigots, and fixing burst pipes
If your home has outside spigots, you know that they are more susceptible to freezing in the cold winter months.
Most hose bibbs have an interior valve that should be closed during the colder months.
If they don't, you may suffer a burst pipe.
But that isn't the end of the world.
Burst pipes are usually an expensive endeavor, but they don't have to be.
If you live in an area prone to freezing temperatures, you probably already know how to prevent burst pipes.
But if you don't:
On nights when temperatures are expected to drop below freezing, running your water at a slow trickle can prevent the pipes from freezing and bursting.
Yes, it is that simple.
But sometimes it is sooooo cold that even that doesn't work.
The pipes freeze and burst anyway.
Image shows a section of copper piping that burst due to freezing temperatures. Image from YouTube video
But you're not stuck paying an outrageous plumber's rates.
You can fix a burst pipe yourself!
Copper pipe repaired using a compression fitting. Image from YouTube video
Here is the entire process, including handy tips:
Chasing down and Tackling That Running Toilet
Sometimes, a running toilet is just a kink in the chain attached to the flapper.
Sometimes it is a bit more complicated.
But, the best thing is…
Short of cracks in the porcelain, there is nothing on a toilet that can't be fixed!
Whether your toilet isn't flushing, isn't filling, or is running, you can fix it yourself.
Image from YouTube video
Checking the float, flapper, and fill valve
The float, flapper, and fill valve are all parts of the toilet that are found in the tank.
To make sure these parts are working properly is an easy task.
To check the flapper, add a few drops of food coloring to the tank (enough to color the water slightly). Walk away for a couple of hours.
If the colored water ends up in the toilet bowl by the time you return, your flapper valve is leaking and should be cleaned or replaced.
To check the float assembly, gently lift the float arm while the tank is filling. If the tank stops filling, the valve is working correctly. If the toilet continues running, the fill valve needs replacing.
Common plumbing problems that point to a faulty fill valve are:
The toilet "runs" or doesn't ever seem to fill completely
The fill valve isn't delivering water through the fill tube
Water in the tank takes forever to fill
Replacing the terlet guts and keeping yer hands dry
OK, you're probably not going to stay completely dry.
But you won't get totally soaked either!
What you need to replace the toilet fill valve:
Image via Flaticon
Channel locks or large pliers
Image via Flaticon
Adjustable wrench (also called a crescent wrench)
Image via Flaticon
Sponge
Image via Flaticon
Bucket
Image CC BY-SA 3.0 via Wikimedia Commons
A new fill valve assembly (denoted as number "2" in the above image)
Now you're ready to start!
How to replace a fill valve:
Turn off the water at the valve behind the toilet
Flush the toilet and hold down the handle to remove as much water as possible from the tank
Remove the supply line under the fill valve (you'll need that bucket now)
Remove the fill valve by unscrewing the anchor fitting under the tank
Place the new fill valve into the hole and attach the anchor fitting
Reattach the supply line to the base of the fill valve
Connect the refill tube from the fill valve to the overflow tube in the tank
Tighten all connections securely
Turn on the water and check for proper operation and leaks
How quick and easy was that?
Not everyone has a wet/dry shop vac — that's why we recommend the bucket.
Less dramatic, the same result.
Other toilet issues and how to fix them
Got a pugged toilet?
We can help!
The toilet plunger should be a standard piece of equipment in any bathroom.
The difference between a sink plunger and a toilet plunger is that a toilet plunger has a flange that allows it to form a better seal in the unusual drain.
Clearing a toilet clog with a plunger is pretty straight-forward:
Insert the plunger, adjusting the head to make a tight seal, trapping air in the bulb of the plunger
Apply downward pressure on the plunger handle, forcing the trapped air into the drain of the toilet
Repeat as necessary until the bowl begins to drain
If your clog is more stubborn, you may need to employ a toilet auger.
Image from YouTube video
This is a type of plumber's snake designed to protect the porcelain in your toilet and to clear the bends and curves in the toilet drain. If you don't own one (they are relatively inexpensive), you can normally rent them at your local home center.
Clearing a toilet clog with a toilet auger
With the handle extended, gently insert the end of the auger into the drain.
Slowly turn the handle while applying slight pressure to allow the snake to work its way through the S-trap
As the auger reaches full extension, your toilet should be draining
Remove the auger carefully and flush the toilet
If the toilet is still draining slowly, repeat the process
Replacing the wax seal
If your toilet is leaking around the base, you probably need to replace the wax seal.
The wax seal is what keeps the toilet drain sealed to the floor drain. This keeps fluids and sewage odors from seeping into your home.
This is also how you replace a toilet with a new one.
To remove the toilet:
Turn off the water, then flush the toilet to drain the tank
Remove the lid from the tank and set it aside carefully
Empty the remaining water from the tank and bowl (or you can pour solidifier into the bowl)
Disconnect the water supply line
Remove the caps and anchor nuts from the closet bolts
If there is caulk around the base of the toilet, cut it away using a utility knife
Carefully lift the toilet and set it aside on an old towel or newspapers
Remove the old wax ring using a putty knife
If there is caulk still on the floor, remove it also and wipe the floor clean
Replace the closet bolts if needed
Place the new wax ring in position (the flat side should be on the flange with the rounded edge facing up)
Image via ​Flaticon
Some final notes
If you are installing a new toilet, carefully place it over the wax seal, making sure the closet bolts are lined up with the holes in the base of the toilet.
If you are reinstalling the old toilet, you will want to clean off the area under it to remove any remaining parts of the old wax seal before reinstalling it.
Sit on the toilet to properly seat it on the wax ring.
Simply reverse the removal process. After everything is reconnected, turn on the water and check for leaks.
This great video explains the step-by-step process to replace a wax ring:
Replacing the wax seal may also help with wobbling.
If you have an uneven floor, as is often the case in older homes, you can install shims under the toilet to correct wobbling also.
While some jobs are messier and take longer, the average homeowner can repair MOST plumbing problems without paying some stranger $100 an hour!
OMG THE HAIR: It's EVERYWHERE!
It's like an unspoken rule of home ownership.
THOU SHALT HAVE FUZZY DRAINS!
Don't worry; there's a solution.
Image: From Pixabay
Showers are the most common culprit for hair clogs, with bathroom sinks coming in a close second.
You'll need a simple cable tie or plumbers sink snake.
Bathtub and shower drains
​
If you have a stand-alone shower, the drains are pretty straight-forward.
It is usually a grate with a screw or two holding it in place.
To clean them out and remove a clog, you begin by removing the plate.
Using a large cable tie, cut small slits along the end (this is demonstrated in the final video). With the drain plate removed, insert the cable tie into the drain and see what surprises you pull out.
This is not for you if you have a weak stomach.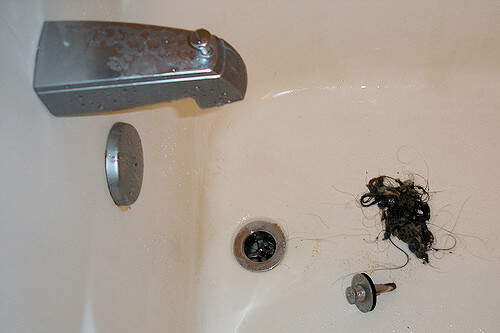 Image: CC BY 2.0 from Steve Shaner via Flickr
Keep fishing until your cable tie comes out clean.
It that didn't clear your clog, you may have a larger monster to hunt down.
If you have a plumber's snake, you can use it.
Bathtub drains with pop-up drain plugs are a little more difficult, but not totally unruly.
They are easier to clean out through the overflow tube (demonstrated in the video below).
Most pop-up assemblies have a removable top so that you can grab any hair collected around the assembly.
This video demonstrates using a plumber's snake through the overflow:
Bathroom sink drains
Hair is everywhere.
Simple hair clogs can usually be cleared with a tool called a Zip It.
Using a Zip It:
For more involved clogs, you may need to resort to a plumbing snake.
While the procedure is rather simple, this is a special type of tool. They are inexpensive, and can also be rented from your local home improvement center.
To use a plumber's snake properly:
If your bathroom sink drain is leaking, replacing it is an easy task:
Kitchen sink drains
Although kitchen sinks don't normally develop hair clogs, they do develop other clogs.
It may be necessary to snake out the P-trap and drain in your kitchen.
This works pretty much the same as the bathroom sink except you don't have to work around the pop-up assembly.
If your kitchen has a garbage disposal unit — you cannot snake through the drain. You will need to remove the lower piping under the sink and snake out the lines from underneath the garbage disposal.
Likewise, it is difficult to snake a dual sink through the drains effectively. The blockage is normally below the "T" that connects the two sink drains to the P-trap.
If you need to replace your existing garbage disposal or want to add one, this video shows the process:
Go Forth and Wreak Havoc on Those Plumbing Problems
You can do it!
Plumbing problems can be huge, expensive, and impact your life harshly. But knowing a few basics about how your plumbing systems work and how to make basic repairs will help ease the pain.
Even in a worst-case scenario, you can do one thing that will minimize the damage caused by leaking plumbing in most cases.
Shut off the main valve.
Knowing that one thing can save property damage and give you time to find tools and instructions on how to repair the problem. Or to call a plumber if it is something above your level of expertise.
A few last minute tricks to make your plumbing problems seem easier:
Enjoy these videos for even more great things you can do yourself to save big bucks with the plumbers.
Learning the proper way to use a basin wrench will help a lot when changing out those hard-to-reach faucet fittings:
If you have really major drain problems, you can rent a drain auger from the local home improvement warehouse. This video demonstrates how to use this tool safely and correctly:
No "Plumber's Butt" required…
We hope you learned a few quick and easy ways to solve plumbing problems in your home. Leave us a comment and tell us what you liked.