image via: pixabay.com
If you are remodeling your bathroom, getting rid of an old toilet and installing a new one will immediately enhance the room. Removing an old toilet is something you can do yourself with a few tools. Here is what you need to know about how to remove a toilet.
Should You Get Rid Of Your Old Toilet?
image source: Uns​​plash
A new toilet can be cheap or expensive depending on the model at which you are looking. Replacing your old toilet and installing a new one is something you can yourself, which means this project is a very affordable way to spruce up your bathroom.
If you want a more modern design, a more comfortable toilet, or simply want to add a pop of color to your bathroom, replacing your toilet is well worth it. Keep in mind that replacing a toilet is a lot easier and cheaper if you choose a model with the same flange size and distance to the back wall.
Once you remove your old toilet, you will see the flange pipe opening. You can mount the new toilet on top of this opening by fastening it to the floor with bolts. The average distance to the back wall is 12." Measure your old toilet to determine if finding a replacement will be easy.
Besides aesthetical reasons, there are a few signs that indicate it's time to get rid of your old toilet:
The toilet clogs or overflows regularly.
Flushing isn't effective.
The bowl doesn't fill up as it should.
There are cracks and other signs of damages.
The toilet leaks.
The toilet runs all the time.
You can hear trickling sounds coming from the tank.
Your water bill is higher than it should be and you suspect a slow leak in the tank.
Make Sure You Have The Right Tools
image source: Pixa​​bay
Start by assembling all the tools you will need. You can remove an old toilet with a few simple tools you probably already have:
Wrench
Scraper
Screwdriver
Towel
Sponge
Bucket
Protective gloves
Protect the flooring around the toilet if you don't plan on replacing it as a part of your remodeling project. Removing an old toilet can get messy.
You should also have a mop and bucket ready in case you end up with some water spillage. Prepare an area where you can set the old toilet down. Laying newspapers on the ground should be sufficient.
A one-piece toilet can weight over 80 pounds. It's best to have someone around to help you move it. If you have a two-piece toilet, you will be able to remove the tank and bowl separately and should be able to carry these elements.
Wear your protective gloves during this entire process. You might come into contact with bacteria as you remove the toilet from the floor, even if your bathroom is clean.
Start By Draining The Toilet
image source: Pixa​​bay
Flush some bleach or bowl cleaner a few times to get rid of odors and bacteria before you get started. Your first step should be to drain the tank and bowl of the toilet so you can remove it without making a mess.
You will find a cut-off valve behind the toilet. Turn this valve off to interrupt the water supply to the tank. You can then flush the tank. Hold the handle down until the tank is empty.
Take the toilet tank cover off to make sure the tank is empty. Set the tank cover aside since it's safer not to have it on when you remove the toilet.
Fill a bucket with water and pour it into the bowl. Hold the bucket as high as possible to create a flow. This flow will cause the bowl water to flush down the drain.
Repeat this more than once if you need to. Your goal is to get as much of the water as possible to go down the drain.
Use the sponge to finish emptying the toilet bowl. If you have a shop vacuum, use it to get rid of the water left in the bowl. You might not be able to get rid of all the water, but you should try and get the water level as low as possible to avoid making a mess when you remove the toilet.
Disassemble The Tank
If you have a two-piece toilet, you can remove the tank first. If you have a one-piece design, you can skip this step.
You will find bolts under the tank. There should be one on each side and a third one in the middle. Remove them with a ratchet or basin wrench.
Once the bolts are gone, you can carefully lift the tank and set it aside. If the bolts are giving you a hard time, you can leave the tank attached to the rest of the toilet and remove the entire unit.
Unbolting The Toilet From The Floor
image source: Pixab​​ay
You will find the floor bolts on the base of the toilet. Most models have two on each side, but you might have a toilet that uses an additional floor bolt in the back.
If there is a plastic cap that protects the bolts, use a screwdriver to remove it. All you have to do is insert the tip of a flat screwdriver under the cap and use the screwdriver as a lever. Pliers might be needed if the caps are difficult to remove.
Once the caps are off, you can use a wrench to loosen the bolts. Make sure you turn counterclockwise.
Dealing With Stubborn Bolts
The bolts that secure your toilet to the floor might be challenging to remove due to rust or grime. They have probably been here for years, and the humid environment of a bathroom makes rust likely to appear.
There are different techniques you can use to remove the bolts. The great thing about removing a toilet is that you will discard your old toilet and don't have to worry about damaging the bolts or the toilet itself.
If you look for content on how to remove a toilet, you will find that everyone has their own tips and tricks for loosening stubborn bolts. Here are a few methods you should try:
Use a wrench to tap on the bolts and create vibration.
Use pliers to remove stripped bolts.
WD-40 can loosen some bolts.
Heat will almost always work. Use a torch to heat the stubborn bolt and apply WD-40 to finish loosening it.
An extended wrench can give you more leverage.
Invest in a bolt extractor tool if all the bolts are frozen.
If nothing else works, cut through the bolt with a hacksaw or Dremel tool.
Remove The Wax Seal
There is a wax seal that keeps the toilet anchored to the floor and prevents leaks. Depending on how old your toilet is, you might need to rock it back and forth to break this seal.
Once you have broken the seal, you should be able to lift the toilet and remove it. Get the toilet out of the way and set it down on some rags or old newspapers.
Once you have removed the toilet, use a rag or towel to plug the drain hole. Sewage gas can leak out of the open drain hole, which is why you need to cover it as quickly as possible and keep it covered.
You can then use the scraper to remove the wax seal. Use some hot water to loosen the wax if needed.
Clean The Area
Some areas are difficult to reach in your bathroom, such as the wall behind your toilet. Removing an old toilet is the perfect opportunity to scrub down and sterilize areas you wouldn't be able to reach otherwise.
It's best to clean the flooring around the toilet you just removed, even if you plan on replacing it as part of your remodeling project. You should disinfect the entire area around the toilet to get rid of bacteria.
You can use bleach and warm water to clean the area. Use the scraper if there is still wax or gunk stuck to the floor. You can apply some alcohol or cleaner to dissolve stubborn gunk or rust.
If you want to clean the wall behind the toilet tank, use warm water since bleach can discolor paint and wallpaper. Use a gum eraser if there are any stubborn marks. We recommend that you sand and paint the wall before installing the new toilet since accessing this area will be difficult once the new toilet is installed.
Be mindful to keep the drain pipe closed with a towel or rag while you clean the area.
Cleaning Water Spillage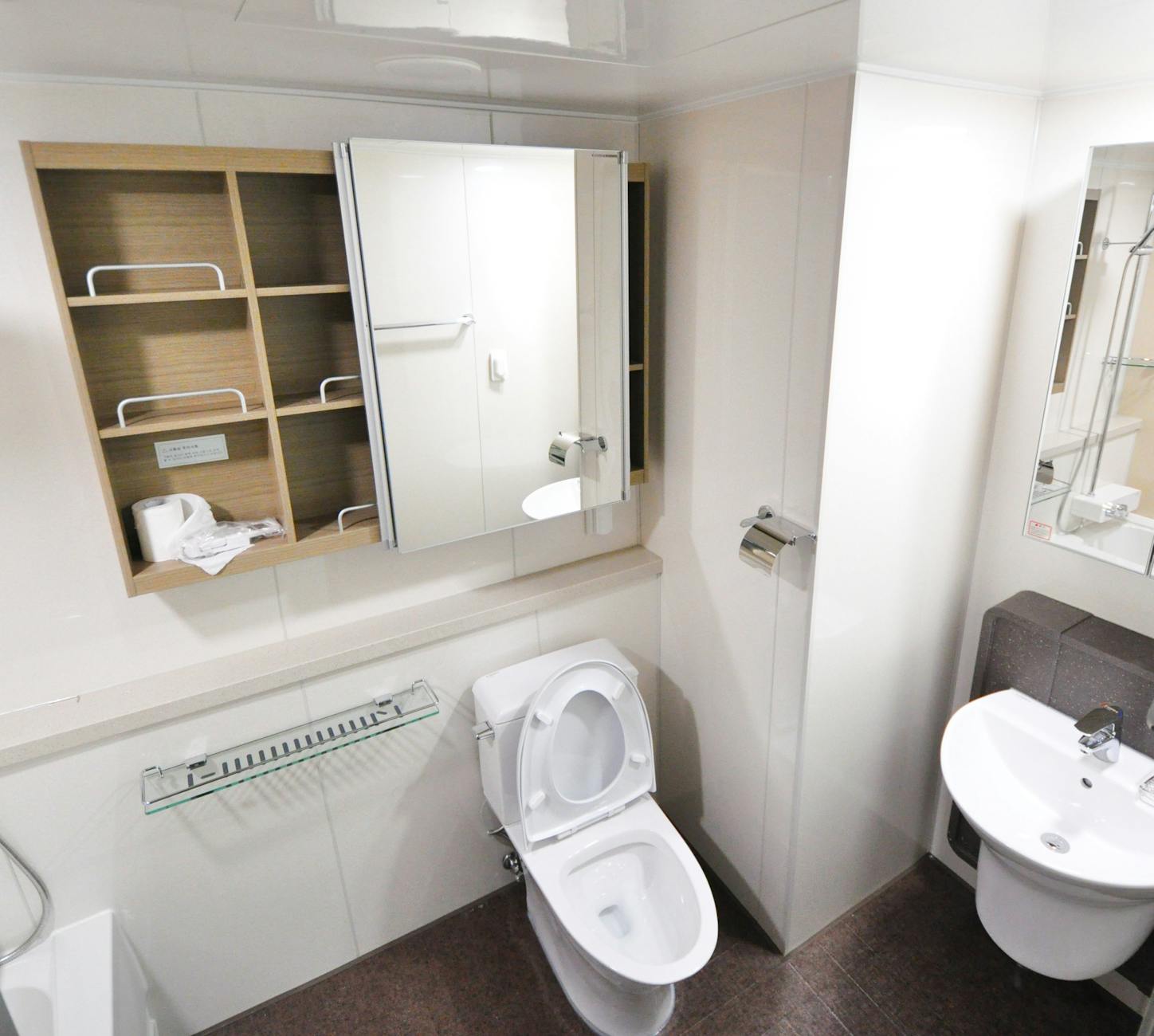 image source: Pexe​​ls
If water comes out when you pull the toilet out, don't panic. It's difficult to remove all the water from the toilet bowl and water spillage can happen.
Keep a mop and bucket handy and use them to absorb as much of the water as possible. You can also use a sponge or towel to absorb spillage water.
Rinse the area with warm water and sanitize it with diluted bleach. Open a window for ventilation as you let the area dry.
You might be tempted to use the drain hole to get rid of the water spillage, but it's safer to keep this hold plugged with a towel while you clean the area around it with a sponge or mop.
What To Do With Your Old Toilet
Instead of taking your old toilet to a landfill, contact your local recycling center. It's possible to crush porcelain and recycle it to make concrete.
Some recycling centers offer a curbside pickup service, but you should call ahead of time to find out if your old toilet is an item they can pick up.
If your local recycling center can't pick up your toilet, look for a local waste disposal company. Try finding a company that can come pick up the toilet and take it to a recycling center.
Replacing The Flange
image source: Pixa​​bay
The flange is the base on which you mount a toilet. You will find this base at the top of the flange pipe where waste drains.
You can usually attach the flange to the pipe with glue. If you need to remove the flange, you should be able to dissolve the glue with warm water or alcohol.
There is no need to replace the flange if the size corresponds to the new toilet you want to install. However, you will need to replace this plumbing part if there are signs of damages or if you need to install a different size. For instance, you would need to replace the flange with an offset flange if you were to replace a round toilet with an elongated model.
If there are no signs of damages on the old flange, you can glue the new one on top of it. You can also use a hammer and chisel to break down the old flange if the glue is difficult to dissolve.
Know When To Call A Professional
Knowing how to remove a toilet depends on the model of your old toilet and on the new one you want to install. If you are replacing an old toilet with a more recent model that has a similar shape and size, this DIY project should be fairly easy. You should be able to complete this project yourself as long as you have the right tools.
You should think about getting help from a professional if you don't feel confident about removing your old toilet yourself. You should also hire a contractor if you need more extensive work done, such as installing a new toilet flange or changing the location of the toilet.
These tips should help you get rid of your old toilet for your bathroom remodel project. Even though removing a toilet is fairly easy, you need to plan a few things in advance and figure out how you will plug the drain hole, clean any spillage, and get rid of the old toilet.
[amazon bestseller="toilet repair" items="3″]